بشقاب پرنده کواد کوپتر PARROT AR.DRONE RC HELICOPTER REVIEW THE FLYING VIDEO GAME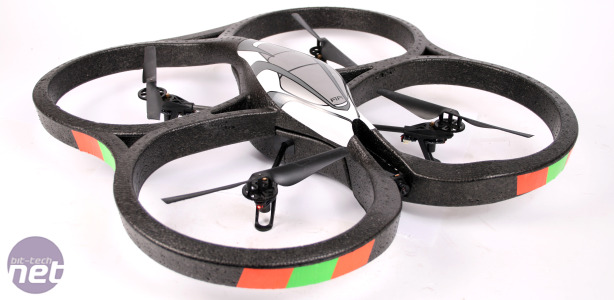 PARROT AR.DRONE RC HELICOPTER REVIEW THE FLYING VIDEO GAME
1- این وسیله مجهز به فیلم برداری و کنترل با iphone , ipod touch و ipad می باشد .
2- داراي قاب هاي جدا براي پرواز هاي indoor & outdoor .
3- با پروازي فوق العاده آسان و لذت بخش .
4- شما مي توانيد با حركت دادن ipod در دست خود اين وسيله را كنترل كنيد .
5- مجهز به telemetri .
6- مدت زمان پرواز حدود 12 دقيقه .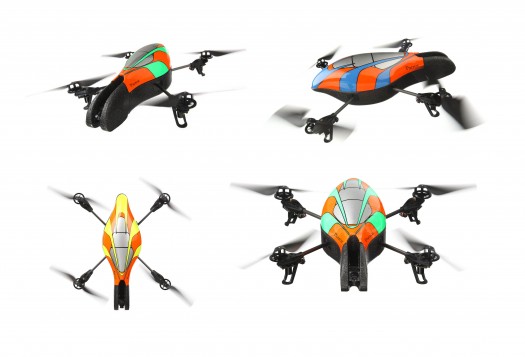 Description:


(BLUE) PARROT AR DRONE QUAD ROTOR AUTONOMOUS AIRCRAFT: CONTROLLED

Description:

The Parrot AR Drone is an amazing 4 rotor flying aircraft designed to be controlled with a free App downloaded to your iPhone, iPod Touch or iPad which connects directly with a WiFi network generated by the AR Drone.


Equipped with 4 brushless motors, gyros and two cameras you simply press a button to launch and it will rise and hover at 1200mm off the ground until you provide another input or it runs out of power.

You have to see it to believe it!

Control is via touch screen gimbals and accelerometers included as standard in your Apple device.
For indoor use a foam blade protecting hull is fitted to prevent blade strikes and range is up to 50m.
For outdoor use a sleek and compact body hull is included.
Power is provided by a hard cased 1000mAh LiPo battery and an Australian Approved charger.
Parrot AR.Drone The first quad-copter that can be controlled by an iPhone and iPod Touch and iPad.
High technology sensors for simple piloting A mix of captors, wide angle camera, high speed camera and MEMS (Micro Electro Mechanical Systems), accelerometer, gyro sensors and ultrasound sensor combine with a powerful on board computer to make piloting the AR Drone easy.
Simply use your iPhone or iPod Touch and just tilt and touch to control the AR Drone.




Connect and see The Parrot AR.Drone generates its own Wi-Fi network to which you connect your iPod Touch or iPhone to control. The front camera view is streamed to your piloting device display.
Autopilot: The AR Drone autopilot allows easy take off and landing.
After take off, autopilot stabilizes the AR Drone at a 80 centimetres altitude.
When you remove your finger from the iPhone/iPod Touch the autopilot function automatically puts the AR Drone into stationary flight.
Lost connection with the AR Drone? Autopilot takes over again and stabilizes the device before attempting a soft and safe landing.
Indoor and outdoor hulls included The full hull shield protects the AR.Drone from impacts that occur during wild battles against enemies hidden in the rooms of the house.
The streamlined coloured hull is aerodynamic, allowing greater control outside.
High durability and easy repair AR.Drone is a quad-copter made in carbon fibre and high resistance PA66 plastic.




All parts can be changed for easy repair.
Free piloting App on iTunes Please download AR.Freeflight on Appstore to control the AR.Drone. (iTunes account needed).
Augmented Reality games Not only see what the AR Drone sees, with the front mounted camera, but enjoy a wide variety of games in augmented reality.
AR.Games will be sold on iTunes Appstore.
Choose from a selection of single player and multiplayer games, using the AR Drones camera and the Augmented Reality applications.
Shoot enemies or other drones.
Dimensions:- With Hull 52.5 x 51.5 cm - No Hull 45 x 29 cm
Weight: 380g,
Battery:- Fly Time: 12 mins- 3 cell Lithium Polymer
Battery- Capacity: 1000 mAh- Charge Time: 90 min
Motors:- 4 x 15W Electric Brushless Motors (3,500 rpm)
Construction:- High-Efficiency Propellers- Carbon Tube
Structure, Front Camera- VGA (640 x 480) CMOS Camera - 93 Degree Wide Angle Lens - 15 fps Video
Vertical Camera:- QCIF (176 x 144) High Speed Camera (CMOS)- 64 Degree Diagonal Lens- 60 fps Video-
Horizontal Stabilization Altimeter:- Ultrasound Based- Range 6m-
Emission Frequency: 40kHz- Vertical Stabilization
Internal Guidance System:- MEMS (Micro Electro Mechanical System)-3 Axis Accelerometer- 2 Axis Gyroscope- 1 Axis Yaw Precision Gyroscope
Embedded Computer- ARM9 RISC 32bit 468MHz- 128MB DDR RAM - Wi-Fi b/g - Linux OS- USB Socket
نوشتن نظر
لطفا ما را از نظرات خود مطلع نمائید.